A battery is an electrical storage device. Batteries do not make electricity, they store it, just as a water tank stores water for future use. As chemicals in the battery change, electrical energy is stored or released. In rechargeable batteries, this process can be repeated many times. Batteries are not 100% efficient - some energy is lost as heat and chemical reactions when charging and discharging.
1. What is the normal battery percentage for battery health??
The lithium ion battery in your device will last longer if you keep it 30% to 90% charged at all times.
2. What is the lowest battery percentage?
When the battery is fully drained or empty, it will take longer time to turn on the device. It is recommended to charge the device when the battery level reaches to 30%.
3. How long will the device battery stay charged?
3.1 If the device is turned off or remove from the vehicle cradle, a fully charged device will stay its' charged for approximately 4 days or 96 hours.
3.2 If the device is turned on, a fully charged device will stay its' charged for approximately 6-8 hours without connecting to a vehicle cradle.
IMPORTANT REMINDER:
Manually shutdown the device when not in use to avoid any battery drainage. To do that, press and hold the red power button located at the right side of the device, then select "Power Off" option.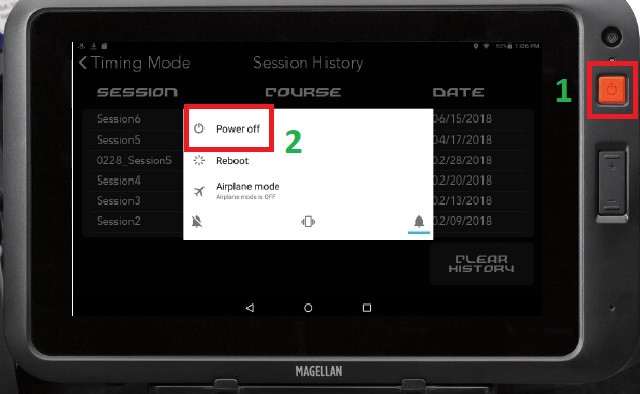 NOTES:
The battery is not to be used or relied upon as a sole power source.
The device is designed to be connected to the vehicle cradle at all times especially when navigating.
The battery is designed as a backup power source in the event of a short-term power failure/loss from the main power source.
Ensure you are using the correct cradle that came with your device.
Factors that affects the battery life of the device:
Make sure to turn off the WiFi connection when unused.
Adjust screen brightness
Adjust volume