To finish and save your track, tap Pause > Save (checkered flag icon). You'll see a screen for entering track details.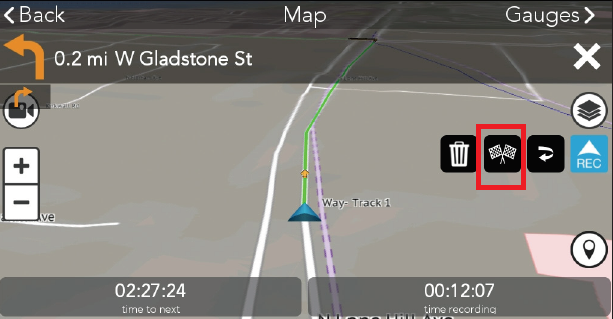 To save your Track to your Log once you've finished Tracking:
Tap Name to enter a track name.
Tap type of Vehicle you're using.
Tap a 4WD (four-wheel drive) option: No, Some, or Must.
Tap a 4LO (low-gear) option: No, Some, or Must.
Tap a Dirt type: Solid, Loose, or Rutted.
Tap Terrain information: Mud, Sand, Snow, Ice, Water, and Rock (0-12+ inches, avoidable or unavoidable).
Tap Pitch and Tilt specifications (0-10, 10-20, or 20-30 degrees).
Tap on a Difficulty Rating.
Tap a star rating from 1 to 5.
Tap Comment to write details or commentary about your track.
Tap Save to save your track to your Log, or Discard to stop saving your track.
To view your track details any time: tap Journal > Log > select your track.